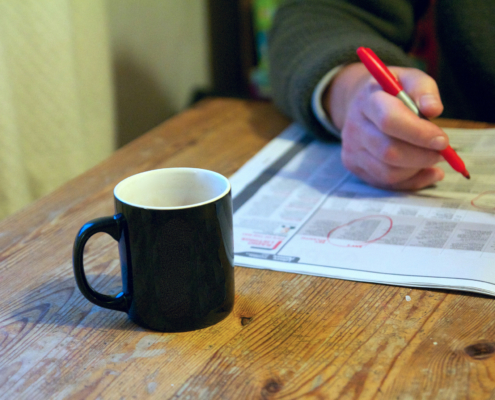 The loss of a job can be one of the more traumatic events in a person's life. It impacts our sense of identity and our relationships with family members and friends. Loss of employment forces us into transition. How can we deal with the financial, emotional and spiritual issues that arise when this happens and how can we discern a way forward through the transition and towards good decision-making for the future?
Make self-care a priority. A good night's sleep, regular exercise, eating well, and taking time for prayer will reduce stress. Try to take a few minutes every day to quietly open yourself to God's presence. Avoid isolating yourself. Be aware of signs of depression, changes in alcohol or medication patterns, anxiety and obsessive thinking that can diminish energy and negatively affect your moving forward. Try to think in a way that is constructive rather than destructive. Anger, fear, resentment, self-judgment, frustration, "why me?" thinking are normal reactions, but if continued too long can interfere with developing constructive attitudes and behaviors needed for a positive resolution. It is important to recognize your emotions and fully feel them. Then move on; avoid getting stuck in your feelings or letting them launch you into reckless action.
Take time to be with God. While there is much work to be done when looking for a new job, don't neglect spending time in quiet reflection. Use meditation techniques to keep yourself open to the movement of the Spirit.
Try using a job search as a chance to gain fresh perspective. This transition time offers the opportunity to reevaluate and reassess vocation and lifestyle by identifying your strengths and weaknesses, your skills and abilities, your needs both financial and psychological as well as those of your family or others who may depend on you. During this time you may also look at the potential for further education or training to prepare you for future opportunities. This can be a time to start a business you always wanted to open, or consider retirement. Think about short term strategies as well as long-term goals. For example, you may address needs for income while pursuing longer-range employment opportunities.
Involve your loved ones. Job change may dramatically affect their lives. Include them in your planning. They may serve as important resources, and their buy-in to future changes can be critical to quality of life for the whole family, including you. Also be aware that they may be in emotional turmoil over an uncertain future because of your job loss. Fear, anger, anxiety, or impatience may negatively affect their participation in the planning process and may distract the family unit from moving forward in a healthy discernment process. Seek assistance as may be appropriate in this family transition time, perhaps consulting your pastor or a family counselor.
Be prepared. As you pursue job opportunities, be ready to put your best self forward for interviews and for all contacts with potential employment possibilities. Carefully research the job or business opportunities in advance. Consider how your background, education, skills, abilities and interests intersect with the specific employment you seek. Be prepared to articulate your interest in the position both orally and in writing. Utilize professionals or trusted friends who have your best interests at heart to serve as counselors, coaches, guides and good listeners as you work through this transition to good resolution.
Be calm and centered as you approach the interviewing process. It can help if you ask questions, listening to learn what the prospective employer is looking for before saying too much yourself. It is wise to be interested in what is important to them.
Be aware of any kindness that people show you and good things that may happen to you. A grateful heart tends to draw people to you and make you a happier, healthier person, which makes it easier for you to persevere in what can be a long and grueling search.
Throughout this time, be alert to signs of God's Spirit such as messages that keep recurring; threads of your life that start to come together; surges of joy or energy; and feelings of quiet confidence. Enter into them and try to follow where they lead.
Allow yourself grace. Even though the loss of employment has thrust you into an unexpected and challenging time, let yourself be open to the grace that can support and sustain you and your family during this difficult time.